About Museum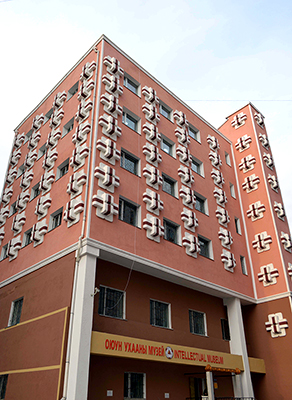 The International Intellectual Museum is the first privately owned museum and was established on August 13, 1990 in Ulaanbaatar. The museum displays over eleven thousand of intellectual items from 130 countries around the World. All items are classified into 15 subcategories in order to create a friendly environment for visitors. The guide is available for every visitor with explanation of the exhibits. Most of the displays of the museum represent various branches of sciences in simplified form by toys and puzzle games. The fact that visitors are allowed to touch, and challenge themselves by putting puzzle games together, instead of merely seeing, makes the museum attractive and enjoyable. Exhibitions displayed are:
Over 5000 puzzle games are displayed, starting with simple ones that consist from two pieces to difficult ones from 673 pieces. Assembling and disassembling of these puzzle games are so challenging that they require from 1 up to 56831 movements. Among the various geometrical shapes of the puzzle games you can find the Seven Wonders of the World made into puzzle. Unique work of arts, spaceship rockets, monasteries, monuments and buildings are all made into puzzle games.
The biggest chess board in the World – its board is 7.6 m wide with rectangular shape. The chess board and its figures can be assembled and disassembled. The Black figures are carved to embody significant historical individuals such as Chinggis khan, Tsogt count, Mandukhai the dowager queen etc, all of whom had played crucial roles in Mongolian history, whereas the White figures represent contemporary leaders and outstanding individuals of Mongolia. The museum also proud of its tiny chess with only 4 mm tall figures carved from bones with 10 sm square board, perhaps the smallest chess in the World. The museum is home to 560 different types of unique chess boards.
Hundreds of items are made elaborating various laws of nature: physics inertia, optical illusion, equilibrium, free fall etc.
The guide demonstrates 30 magic tricks
The museum has over 1000 puppets from over 100 countries. The precious puppet is the archeological finding from the tomb that aged more than 3000 years.
Within the museum you can see ancient Mongol gers, dwelling of Mongols, of various sizes. Many visitors from around the world visit the museum. Numerous local and foreign TVs took documentary films and TV programs.